L'album comincia con "Come a little closer"(intro) che offre dei muri sonori tanto ambient. Poi arriva il cantato femminile(Polly Zaremba Dudek) ad arricchire questi muri sonori e dei "zampilli" tanto luminosi.
Segue "Lost", seconda traccia dell'album. Qui c'è come ospite Arinna Namara, che è di Kuala Lumpur, Malaysia. Non è l'unica traccia dove partecipa questa artista. In questa canzone abbiamo subito un climax sonoro incredibile su un beat abbastanza marziale. Dei refrain electro ricorrenti scatenano tanto appeal e poi entra il cantato di Arinna Namara. Il sound mi fa pensare a qualcosa di Depeche mode, di Hana(di base a Los Angeles) o Grimes o pure Danz(Computer magic). Alcuni tappeti sonori sono tanto austeri e si bilanciano con il cantato leggiadro e sensuale di Arinna Namara. Il chorus è davvero stupendo.
Poi arriva "The walk away" che ospita la vocalist Amy Jo Scott su questo beat tanto ritmato e ancora dei synth tanto atmosferici, ambient. Indovinati senza dubbio gli stacchi e le variazioni per un songwriting tanto buono. In questo pezzo abbiamo per il basso Michael Zaremba. "Trick my heart" vede di nuovo Arinna Namara come vocalist su dei refrain tanto catchy. Le melodie cullano l'ascoltatore su questo beat lievemente solido, deciso. Il mood sonoro generale è un synthpop/electropop di grande spazialità e respiro, un sound che fa viaggiare la mente dell'ascoltatore e mira ad avvilupparlo in un wormhole sonoro stupefacente. "Trick my heart" è presente su youtube con un video. Anche qui songwriting e variazioni tutte azzeccate.
Si continua con "As long as we", canzone dall'esordio tanto evocativo, mentale. Ritorna in questa song Amy Jo Scott. Una canzone emozionale con un piano ed una chitarra incantevoli. Una canzone che sembra provenire da un'altra epoca, una canzone di grande profondità, una sorta di ballad sentimentale. Poi c'è "451/Unavailable for Legal Reasons". Qui abbiamo spirali sonore avvolgenti su un kick dritto. Una sorta di techno trance. Questo pezzo segna l'evoluzione in senso sci fi/robotico di questo album, ci porta in una sorta di dimensione di fantascienza.
"Fade away" presenta diversi autori: Airinna Namara, Hunter Williams & Lil Bonk. C'è questo rap ed altri muri sonori incredibili che mi fanno pensare a qualcosa di Vangelis. Si passa a "Nowhere To Be Found" con ancora Airinna Namara come vocalist. Il sound è tanto delicato e leggiadro e la voce di Airinna Namara si sposa al sound. Mi viene da pensare ancora ad alcune cose di Hana.
"Past The Upset" con Amy Jo Scott ci offre un piano(Michael Eric Schirch) incantevole, una canzone dall'afflato pop, una canzone che manda la testa ad Adele. "Kaleidoscope Light" con il feat di Airinna Namara conclude questo viaggio sonoro. Abbiamo un synth frizzante ed altro background electro di contorno, per un mood sonoro sempre tanto psych, mentale.
La sperimentazione sonora di Policy si avvale di diversi autori: il suo synthpop/electropop sfocia nell'ambient come nella techno trance. Il suo sound è tanto stratificato, multiforme. L'appeal non manca come non mancano vibes tanto cool. La potenza sonora c'è senza dubbio, abbastanza buono il mixing come pure il sound design. Molto buono il master: quindi livello tecnico molto alto insieme ad un songwriting tanto curato e ad una scelta dei featuring ben congegnata. Buona dinamica nei vari pezzi che spesso presentano un sound tanto nitido, squillante. Un album che presenta ben distribuite pure le varie frequenze. Policy è Multi-Instrumentalist, DJ, Producer, Composer, Engineer come leggiamo dal comunicato stampa: la sua grande esperienza e competenza si riverberano in questo suo disco. Quindi ascoltiamolo con grande concentrazione e cerchiamo di cogliere le tante sfumature sonore che contiene.
web links:
https://www.facebook.com/MPolicy1/
https://www.instagram.com/mpolicy1/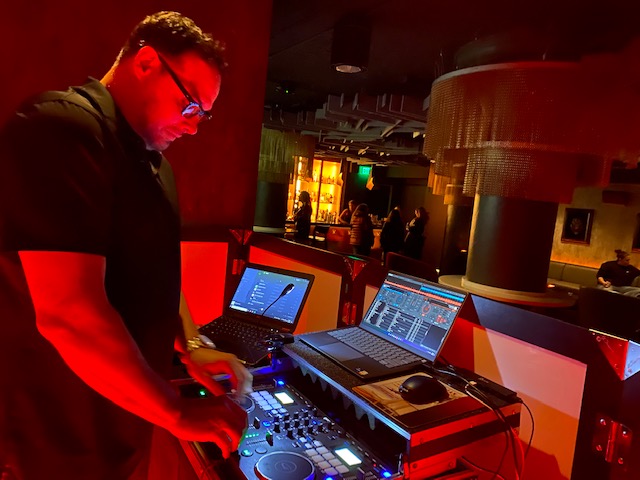 english version:
The album begins with "Come a little closer" (intro) which offers so much ambient sound walls. Then comes the female singing (Polly Zaremba Dudek) to enrich these sound walls.
This is followed by "Lost", the second track of the album. Here is Arinna Namara, who is from Kuala Lumpur, Malaysia, as a guest. It is not the only track where this artist participates. In this song we had an incredible sonic climax on a fairly martial beat. Recurring electro refrains trigger a lot of appeal and then Arinna Namara's singing comes in. The sound makes me think of something Depeche mode, Hana (based in Los Angeles) or Grimes or even Danz (Computer magic). Some sound carpets are so austere and are balanced with the graceful and sensual singing of Arinna Namara. The chorus is truly gorgeous.
Then comes "The walk away" which hosts vocalist Amy Jo Scott on this very rhythmic beat and again some very atmospheric, ambient synths. Undoubtedly there are good cuts and variations for excellent songwriting. In this piece we have Michael Zaremba for bass. "Trick my heart" again sees Arinna Namara as the vocalist on some very catchy refrains. The melodies lull the listener to this slightly solid, decisive beat. The general sound mood is a synthpop / electropop of great spatiality and breath, a sound that makes the listener's mind travel and aims to envelop him in an amazing sound wormhole. "Trick my heart" is present on youtube with a video: https://www.youtube.com/watch?v=CwNpYZ6nmIU. Here, too, songwriting and variations all spot on.
It continues with "As long as we", a song with a very evocative, mental debut. Amy Jo Scott returns in this song. An emotional song with an enchanting piano and guitar. A song that seems to come from another era, a song of great depth, a sort of sentimental ballad. Then there is "451 / Unavailable for Legal Reasons". Here we have enveloping sound spirals on a straight kick. A sort of techno trance. This track marks the sci fi / robotic evolution of this album, takes us into a sort of science fiction size.
"Fade away" features several authors: Airinna Namara, Hunter Williams & Lil Bonk. There is this rap and other incredible sound walls that make me think of something by Vangelis. We move to "Nowhere To Be Found" with still Airinna Namara as vocalist. The sound is so delicate and graceful and Airinna Namara's voice marries the sound. I still have to think about some things about Hana.
"Past The Upset" with Amy Jo Scott offers us an enchanting piano (Michael Eric Schirch), a song with a pop inspiration, a song that remember me Adele. "Kaleidoscope Light" with the feat of Airinna Namara concludes this sonic journey. We have a sparkling synth and other electro background, for a sound mood that is always very psych, mental.
Policy's sound experimentation makes use of different genres: his synthpop / electropop flows into ambient as well as techno trance. His sound is so layered, multiform. The appeal is not lacking as there is no shortage of cool vibes. The sound power is undoubtedly there, quite good mixing as well as sound design. The master is very good: therefore a very high technical level together with a very accurate songwriting and a well thought out choice of featuring. Good dynamics in the various pieces. An album that presents the various frequencies well distributed. Policy is multi-instrumentalist, DJ, Producer, Composer, Engineer as we read from the press release: his great experience and competence reverberate in this record of his. So let's listen to it with great concentration and try to grasp the many nuances of sound it contains.
web links:
https://www.facebook.com/MPolicy1/
https://www.instagram.com/mpolicy1/