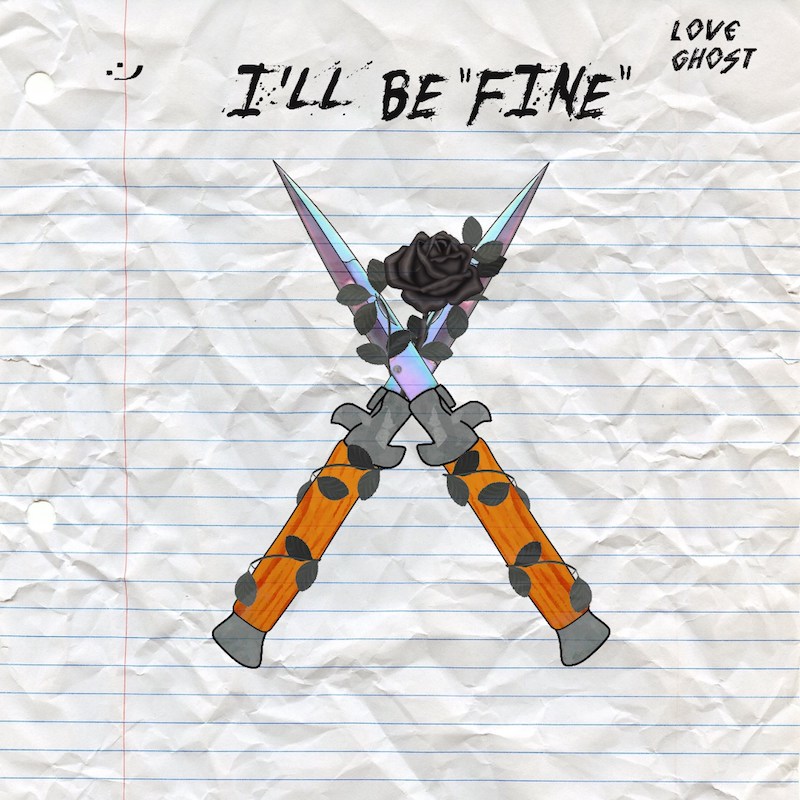 Love ghost – I'll be fine
Love Ghost è una rock band di Los Angeles. Il loro singolo "Let It All Burn" può essere trovato nella playlist ufficiale di Spotify "New Noise", nelle playlist ufficiali di Apple Music "Breaking Hard Rock" e "Fresh Blood", e molte, molte altre.
La band è composta da Finnegan Bell (chitarra e voce solista), Ryan Stevens (basso, voce di sottofondo), Samson Young (batteria e voce di sottofondo), Daniel Alcala (chitarra) e Cory Batchler (tastiere).
Nel 2019 hanno girato l'Irlanda, il Giappone (11 spettacoli a Tokyo, Osaka, Kobe e Kyoto), ed erano una delle band sul palco principale al Festivalfff di Ambato, Ecuador. Love Ghost ha vinto numerosi premi tra cui la migliore rock band alternativa (Hollywood Music in Media Award), il premio Jean Luc Goddard (un premio annuale da Cult Critic Magazine) e premi in oltre 50 festival cinematografici in tutto il mondo per i loro video musicali. La band ha aperto per Buckcherry, Berlino, Smash Mouth, The Young Dubliners, The Tubes, Fuel, The Wallows, Ozomatli e il cantautore irlandese Mundy.
Presentazione di "I'll be fine":
La band di Los Angeles Love Ghost ha pubblicato il suo nuovo singolo introspettivo "I'll Be Fine", per il Mental Health Awareness Month. Danny Sabre (The Rolling Stones, Alice Cooper, the Charlatans, Public Enemy) ha prodotto influenze di rock, rap e trap per trasmettere i sentimenti di solitudine e angoscia che deriva dall'essere un adolescente. "'I'm Be Fine' è una canzone sulla depressione e sull'isolamento".
Questa canzone è stata scritta e registrata mesi prima della crisi COVID-19, ma i temi risuonano ora più che mai con l'isolamento forzato e la mancanza di connessione umana, a causa dell'isolamento forzato. Sebbene la canzone affronti alcuni temi oscuri, ha una generale sensazione di speranza e alla fine della giornata, andrà tutto bene. Con l'uscita di questo nuovo singolo Love Ghost spera di contribuire alla conversazione sulla salute mentale e al mese di sensibilizzazione sulla salute mentale. È solo affrontando questi problemi che lo stigma sulla salute mentale inizia a diminuire, dando a più persone il coraggio di chiedere aiuto.
Recensione del singolo:
Fraseggio di chitarra malinconico per l'esordio di questo nuovo singolo dei Love ghost. Questa volta siamo in territorio grunge e la mente va agli Alice in chains di "Would?". Dopo l'esordio un climax che fa venire i brividi con sonorità che scuotono l'anima. Sonorità marziali che si mischiano con altre tanto clean e melodiche per un singolo davvero eccellente per songwriting e produzione sonora. Il chorus è tanto catchy e il tutto sembra perfetto sia per le nostre orecchie che per la nostra anima….
In tempi di Coronavirus, di lockdown parlare di depressione è quantomeno appropriato. Tutti oltre a rinchiuderci nelle case ci stiamo chiudendo anche in noi stessi. Tutti guardano il prossimo con sospetto. Tutti siamo in un baratro dell'anima oltre che in un'emergenza sanitaria. Ma tutto questo finirà e tornerà a splendere il sole in queste tenebre. Ma ci sono alcuni di noi che hanno o hanno avuto problemi di depressione prima del virus. E' una malattia interiore, un'amante diabolica che non ti da tregua, un'amante alla quale non puoi dire di no. Nei tempi del Coronavirus siamo costretti a fare i conti con noi stessi, a combattere con noi stessi. E ci rendiamo anche conto di chi veramente siamo per poter cominciare ad affrontare nuove strade ed adottare nuovi modi di intendere la vita, l'esistenza.
web links:
Website: https://www.loveghost.com
Instagram: https://www.instagram.com/loveghost_official
YouTube: http://www.youtube.com/c/LoveGhost
Twitter: https://twitter.com/@LoveGhost_
Facebook: https://www.facebook.com/loveghost.official
Soundcloud: https://soundcloud.com/loveghost_official
Spotify: https://open.spotify.com/artist/7oYWWttOyiltgT19mfoUWi
english version:
Love Ghost is an L.A. based rock band. Their single "Let It All Burn" can be found on the official Spotify "New Noise" playlist, the Apple Music official "Breaking Hard Rock" and "Fresh Blood" playlists, and many, many others.
The band consists of Finnegan Bell (guitar and lead vocals), Ryan Stevens (bass and background vocals), Samson Young (drums and background vocals), Daniel Alcala (guitar) and Cory Batchler (keyboards).
In 2019 they have toured Ireland (playing Whelan's, Crane Lane and Roisin Dubh-amongst others), Japan (11 shows in Tokyo, Osaka, Kobe and Kyoto), and were one of the mainstage bands at Festivalfff in Ambato, Ecuador. Love Ghost has won numerous awards including Best Alternative Rock Band (Hollywood Music in Media Award), The Jean Luc Goddard Award (a yearly award from Cult Critic Magazine), and awards from over 50 film festivals around the world for their music videos. The band has opened for Buckcherry, Berlin, Smash Mouth, The Young Dubliners, The Tubes, Fuel, The Wallows, Ozomatli and Irish singer/songwriter Mundy. The band plans on releasing two EP's this fall and is hoping to be back on the road once shelter in place orders are lifted and it's safe to do so.
Some words about "I'll be fine":
Los Angeles band Love Ghost have released their introspective new single "I'll Be Fine," for Mental Health Awareness Month. The Danny Saber (The Rolling Stones, Alice Cooper, the Charlatans, Public Enemy) produced track intermingels rock, rap and trap influences to convey the feelings of loneliness, and angst that comes with being a teenager. " 'I'll Be Fine' is a song about depression and isolation".
This song was written and recorded months before the COVID-19 crisis but the themes resonate now more than ever with the forced isolation and lack of human connection, due to shelter in place orders. Although the song addresses some dark themes, it has an overall feeling of hope, that everything that all spokes that go down must come back up again, and that end of the day, everything will be fine. With the release of this Love Ghost is hoping to contribute to conversation around mental health, and mental health awareness month. It's only by addressing these issues that the stigma around mental health starts to diminish, giving more people the courage to seek help..
single review:
Melancholic guitar phrasing for the debut of this new single by Love ghost. This time we are in grunge territory and the mind goes to the Alice in chains of "Would?". After the onset, a climax that makes chills come with sounds that shake the soul. Martial sounds that mix with other clean and melodic ones for a really excellent single for songwriting and sound production. The chorus is so catchy and everything seems perfect for both our ears and our soul….
In times of Coronavirus, lockdown talk of depression is at least appropriate. In addition to locking ourselves up in houses, we are also closing in on ourselves. Everyone looks at others with suspicion. We are all in a chasm of the soul as well as in a health emergency. But all this will end and the sun will shine again in this darkness. But there are some of us who have or have had depression problems before the virus. It is an internal disease, a diabolical lover who does not give you respite, a lover to whom you cannot say no. In the times of the Coronavirus we are forced to deal with ourselves, to fight with ourselves. And we also realize who we really are in order to start facing new paths and adopt new ways of understanding life, existence.
video link: https://www.youtube.com/watch?v=yMIDItx-__I
Band's web links:
Website: https://www.loveghost.com
Instagram: https://www.instagram.com/loveghost_official
YouTube: http://www.youtube.com/c/LoveGhost
Twitter: https://twitter.com/@LoveGhost_
Facebook: https://www.facebook.com/loveghost.official
Soundcloud: https://soundcloud.com/loveghost_official
Spotify: https://open.spotify.com/artist/7oYWWttOyiltgT19mfoUWi