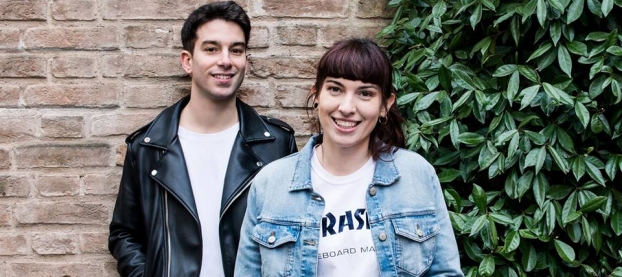 >>Six Impossible Things – Smiles
Il duo Indie Punk Six Impossible Things ritorna con un nuovo video girato durante una live session al Tanzan Music recording studio. Il brano Smiles fa parte dell'album di debutto della band "We are all mad here" pubblicato lo scorso 7 Aprile tramite Tanzan Music.
Tracklist
01 I Don't Know
02 Our Own World
03 Why The World Has Gone Mad?
04 The Right Way
05 Memory
06 Nightmare
07 Smiles
08 Words
09 Miss You
Line Up:
Nicole Fodritto: Voce
Lorenzo Di Girolamo: Chitarra/ Voce
Credits
All music and lyrics written by Six Impossible Things except  track 04 by Lorenzo Di Girolamo and Mario Percudani
Produced by Mario Percudani
Recorded, mixed and mastered by Mario Percudani and Daniele Mandelli at Tanzan Music Recording Studio
Picture by Ilaria Locatelli
Original drawings by Samuele Tavazzi
Background design by Marco Giangiarelli
Artwork by Tanzan Music Graphic Design
English supervisor: Val Sartori
Press office and marketing: Edoardo Giovanelli
[email protected]
Publishing Tanzan Music Ed. Musicali s.r.l. (Suisa – Switzerland)
Copyright © 2017 Tanzan Music
Facebook: https://www.facebook.com/wearesit
Bandcamp: https://wearesit.bandcamp.com/
BIO
I Six Impossible Things nascono nell'estate del 2014 quando iniziano a scrivere le loro prime canzoni. Dopo alcuni mesi arriva il primo live e il gruppo continua a suonare dal vivo per i seguenti due anni, condividendo il palco con artisti del calibro di Rob Moir, Omaha, Chasing Ghosts, D At Sea e Hungryheart, e partecipando a svariati festival (Voghera Country Festival, Creature Festival, Ptec Summer Fest). Nel 2015 realizzano un paio di demo online. Il 30 gennaio 2017 esce per Tanzan Music il primo singolo ufficiale della band, "Memory", anticipazione dell'album che uscirà il 7 di Aprile.