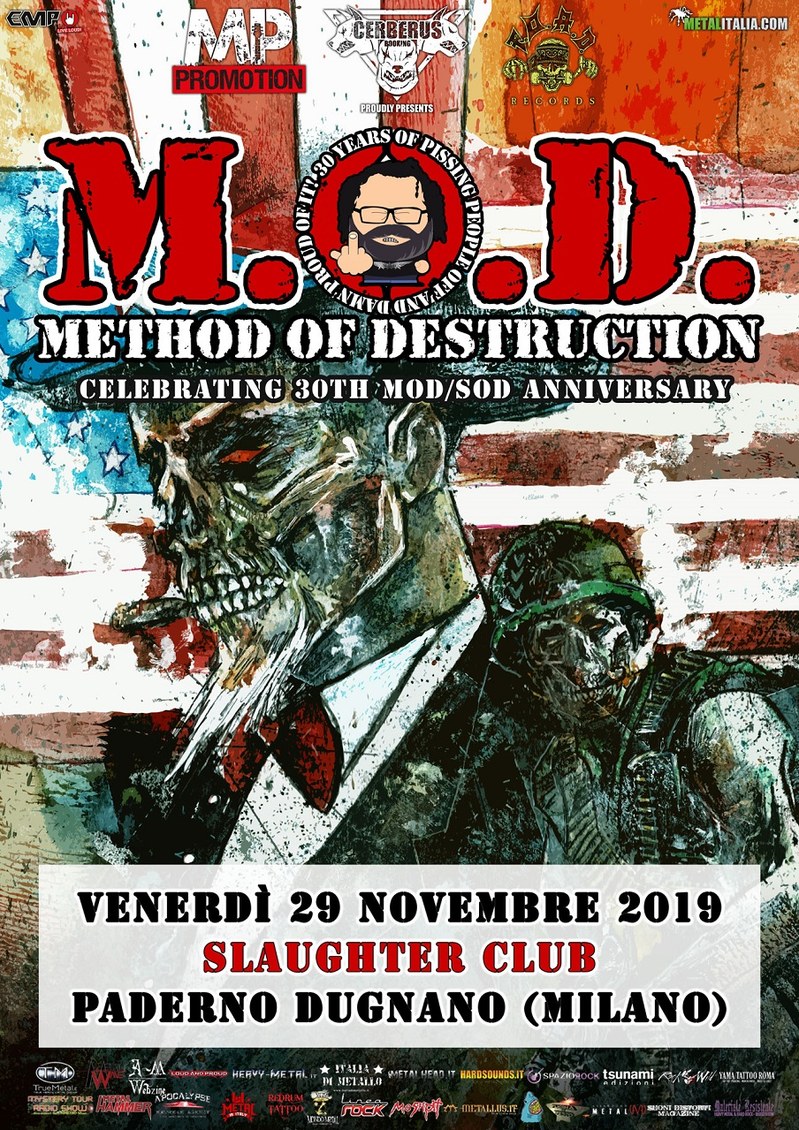 M.O.D. (Method Of Destruction): una data a Paderno Dugnano (MI) per i 30 anni di carriera
Se fossimo ad un programma di cucina, per parlare di loro servirebbero i seguenti ingredienti: sfacciataggine, sfrontatezza, impertinenza e impudenza; mischiate con tutto ciò che è politicamente scorretto, lasciate cuocere tra sfuriate di thrash, hardcore e punk. Otterrete la ricetta perfetta per gli M.O.D. (Method Of Destruction). Capitanati dall'inossidabile Billy Milano, saranno in Europa per una serie di date dedicate al 30° anniversario della band non ancora degnamente celebrato nel continente.
Di seguito le parole del frotman americano:
"Sono passati troppi anni da quando gli MOD sono stati in Europa, ho fatto in modo di avere il mio grasso culo in forma per questo tour con l'obbiettivo di dare ai miei fan il meglio. Un tour per celebrare 30 anni di musica con MOD e SOD, non vedo l'ora!"
L'appuntamento è per il 29 Novembre 2019 presso lo Slaughter Club di Paderno Dugnano.
A breve info su biglietti e band di supporto
Venerdì 29 Novemre 2019
M.O.D. (Method Of Destruction).
Slaughter Club – Paderno Dugnano (MI)
www.facebook.com/SlaughterClub
Evento Fb Clicca QUI
Info:
Cerberus Booking
www.cerberusbooking.com
www.facebook.com/cerberus.booking
Foad Records
www.foadrecords.it
www.facebook.com/foadrecords
MP Promotion
www.facebook.com/mppromotionital