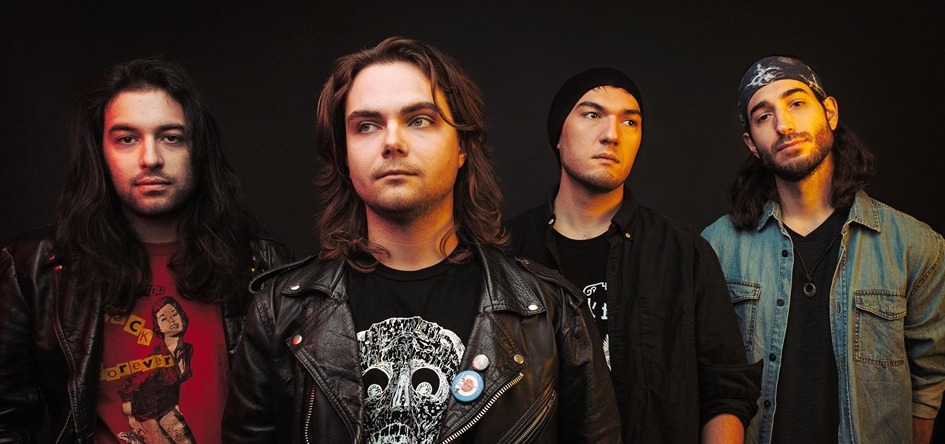 Drop Top Alibi – è uscito "Take It All In Stride"
Combinando la loro atmosfera moderna con influenze classiche, Drop Top Alibi ha creato un'esperienza rock and roll intramontabile e avvincente che raramente si vede nel panorama rock moderno. Costituito nel giugno del 2016 da Brandon Gregory e Dylan Wykes, i Drop Top Alibi sono diventati rapidamente uno degli spettacoli rock and roll più potenti e affascinanti di Toronto, in Ontario(Canada).
Recentemente è uscito "Take It All In Stride", canzone che rappresenta il culmine delle influenze di ogni membro della band, risultando in un giro inebriante che ti riporterà ai giorni gloriosi del rock mentre incanala l'energia del clima musicale di oggi.
Il gruppo sarà in tournée in tutto il Canada occidentale all'inizio della primavera per promuovere l'uscita e condividere il loro suono con nuove persone lungo la strada.
"Take It All In Stride" è il secondo dei tre singoli che la band pubblicherà nel 2020, che sono stati coprodotti dal cinque volte vincitore del premio Juno e nominato produttore e cantautore Grammy Michael Hanson (precedentemente di Glass Tiger).
Recensione del singolo:
Con sonorità che portano alla mente band come The Pretty Reckless("Take Me Down"), Audioslave ed Alice in chains i Drop Top Alibi ci offrono un nuovo entusiasmante singolo con riff e assoli poderosi che infiammano il nostro animo. Ottimi songwriting e produzione sonora nella canzone e Brandon Gregory, lead vocalist della band, sembra essere la punta di diamante per scalfire il nostro cuore e conquistare la nostra anima….Rock d'alta classe e spessore quello dei Drop Top Alibi!!
Line up:
Brandon Gregory – Lead vocalist / chitarra
Dylan Wykes – Chitarra solista / voce
Luc Ricci – Basso
Jeff Cox – Batteria / voce
web links:
https://www.facebook.com/droptopalibi/
https://www.instagram.com/droptopalibi/
https://open.spotify.com/artist/6jznjNdmxannOmZzP31T1w
https://soundcloud.com/user-952385458
https://www.youtube.com/channel/UCU3gegWLNYsFSo3lNtwbKOw
english version:
By blending their modern feel with classic influences, Drop Top Alibi has created a timeless and compelling rock and roll experience seldom seen in the modern rock landscape. Formed in June of 2016 by Brandon Gregory and Dylan Wykes, Drop Top Alibi have quickly become one of the most high energy and mesmerizing rock and roll acts in Toronto, Ontario.
"Take It All In Stride" is officially out. The song is a culmination of each member's influences, resulting in an anthemic ride that will bring you back to the glory days of rock while channelling the energy of today's music climate. The group will be touring across Western Canada early spring to promote the release and share their sound with new people along the way.
"Take It All In Stride" is the second of three singles the band will be releasing into 2020, that were co-produced by five time Juno Award winning and Grammy nominated Producer and Song Writer Michael Hanson (Formerly of Glass Tiger).
video link: https://www.youtube.com/watch?v=hN3Tdt8i4lU
single review:
With sounds that bring to mind bands like The Pretty Reckless ("Take Me Down"), Audioslave and Alice in chains, Drop Top Alibi offer us an exciting new single with riffs and powerful solos that inflame our soul. Excellent songwriting and sound production in the song and Brandon Gregory, lead vocalist of the band, seems to be the spearhead to scratch our heart and conquer our soul …. Rock of high class and thickness that of Drop Top Alibi !!
line up:
Brandon Gregory – Lead vox/guitar
Dylan Wykes – Lead guitar/b.vox
Luc Ricci – Bass
Jeff Cox – Drums/b.vox
web links:
https://www.facebook.com/droptopalibi/
https://www.instagram.com/droptopalibi/
https://open.spotify.com/artist/6jznjNdmxannOmZzP31T1w
https://soundcloud.com/user-952385458