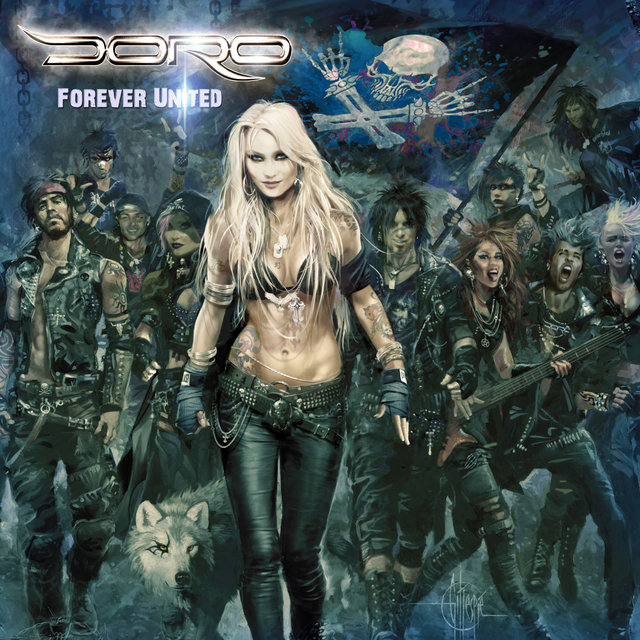 DORO – pubblica il primo trailer dell'album!
Il 17 agosto vedrà la luce il 2-CD "Forever Warriors, Forever United" con ben 25 (!) canzoni nuove di zecca di DORO, in uscita su Nuclear Blast! Oggi la regina del metal svela che cosa i fan possono aspettarsi dal disco! Nel primo trailer dell'album DORO racconta la storia e il background delle sue canzoni e commenta i concept dei due dischi. Inoltre sono state incluse le prime impressioni della stampa europea!
link al video:
https://youtu.be/6KwXFCIqH5c
"Ci sono alcuni inni grandiosi nel disco, innumerevoli canzoni pesanti e melodie che scaldano il cuore! L'album vi trasmetterà potenza e contiene un sacco di energia!", svela la regina del metal. Lo dimostra il primo singolo 'All For Metal' che vede la partecipazione di svariati eroi del metal, che possono essere visti anche nel video.
In 'All For Metal' compaiono infatti Mille (KREATOR), Johan Hegg (AMON AMARTH), Chuck Billy (TESTAMENT), Warrel Dane (R.I.P.), Jeff Waters (ANNIHILATOR), SABATON, Ross The Boss, Rock'n'Rolf (RUNNING WILD), DETRAKTOR, Tommy Bolan (ex WARLOCK), Andy Brings e The Ultimate Doro Clan.
Doro commenta: "La canzone 'All For Metal' è un inno come 'All We Are' con alcuni grandi ospiti alla voce, miei grandi amici. È una canzone dal vivo straordinaria e spero che vi piaccia perché è una delle mie preferite!".
Il singolo esce anche in vinile 7" di diversi colori (black, picture, silver, gold), oltre che in digitale (http://nblast.de/DoroAllForMetal).
'All For Metal' 7″ vinile track list:
Side A
All For Metal
Side B
If I Can't Have You – No One Will
Inoltre i pre-ordini di "Forever Warriors, Forever United" sono attivi: http://nblast.de/DoroForeverWarriors
Il disco può anche essere salvato in anteprima su Spotify http://nblast.de/DoroForeverWarriorsPre
L'album sarà disponibile nei seguenti formati:
DIGI Slipcase ("Forever Warriors" + "Forever United")
2LP (black ("Forever Warriors") gatefold)
2LP (black ("Forever United") gatefold)
esclusiva Media Markt/Saturn 2LP (red ("Forever Warriors") gatefold)
esclusiva Media Markt/Saturn 2LP (blue ("Forever United") gatefold)
esclusiva NB MAILORDER 2LP+2CD (framed gold vinyl)
Retail BOX (con 2 Digipcaks, 2x2LP (1.violet/2.green) gatefold, 2 bandiere poster, spilla, plettro)
Solo NB MAILORDER BOX (con 2 Digipacks, 2x2LP (silver) gatefold, 2 bandiere poster, spilla, plettro + foro autografata & borsa)
Track list:
"Forever Warriors"
01. All For Metal
02. Bastardos
03. If I Can't Have You – No One Will
04. Soldier Of Metal
05. Turn It Up
06. Blood, Sweat And Rock 'n' Roll
07. Don't Break My Heart Again
08. Love's Gone To Hell
09. Freunde Fürs Leben
10. Backstage To Heaven
Bonus songs:
11. Be Strong
12. Black Ballad
13. Bring My Hero Back Home Again
"Forever United"
01. Résistance
02. Lift Me Up
03. Heartbroken
04. It Cuts So Deep
05. Love Is A Sin
06. Living Life To The Fullest
07. 1000 Years
08. Fight Through The Fire
09. Lost In The Ozone
Bonus songs:
10. Caruso
11. Tra Como E Coriovallum (instrumental)
12. Metal Is My Alcohol
DORO e Nuclear Blast stanno pubblicando regolarmente dei brevi track-by-track dedicati alle canzoni del doppio album:
'All For Metal': https://youtu.be/11ENnD7-FV0
'Résistance': https://youtu.be/sS1FRx9UyAQ
'Bastardos': https://youtu.be/WeWEwUEBjac
'Lift Me Up': https://youtu.be/9HxAL-U9uFU
'If I Can't Have You – No One Will': https://youtu.be/P6XwYOTYUNQ
'Heartbroken': https://youtu.be/QESY-fP3ULk
'Soldier Of Metal': https://youtu.be/NDgidIw2fZw
'It Cuts So Deep': https://youtu.be/jXeCyY-Qm8Q
'Turn It Up': https://youtu.be/J9bpQzeyspw
'Love Is A Sin': https://youtu.be/YRKUlOG-iKA
'Blood, Sweat And Rock 'n' Roll': https://youtu.be/CigVSxxVEwc
www.doromusic.com
www.facebook.com/DoroPeschOfficial
www.nuclearblast.de/doro