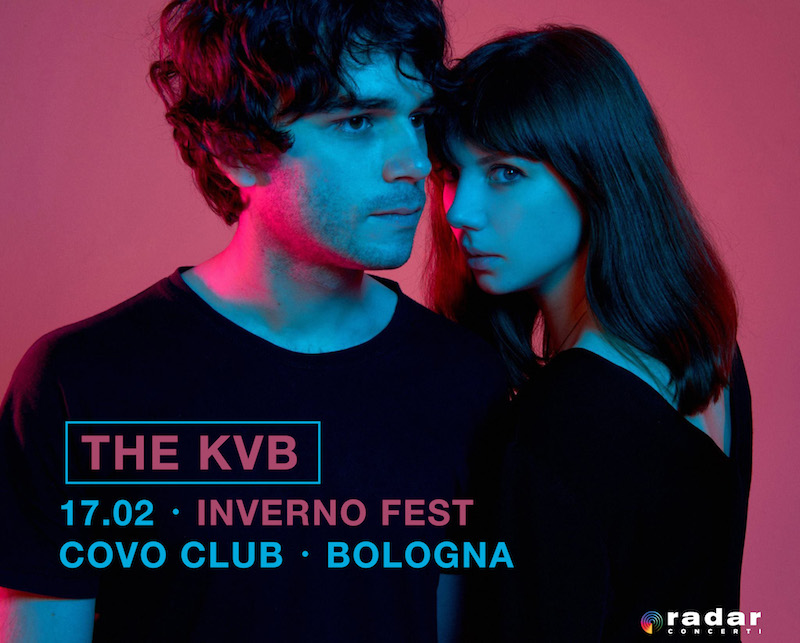 THE KVB_Una nuova imperdibile data per il duo dark wave
RADAR Concerti annuncia una nuova data per i KVB, dopo le tre date estive che hanno impressionato il pubblico di Padova (Summer Student Festival), Palestrina (Nel Nome Del Rock Festival) e Chiaverano (A Night Like This Festival). Il duo dark wave sarà infatti headliner dell'INVERNO FEST, per la serata del 17 febbraio al COVO CLUB di BOLOGNA.
A poco più di un anno e mezzo di distanza dall'album OF DESIRE (Invada Records, 2016), i KVB sono tornati con un nuovo EP, FIXATION/WHITE WALL, uscito lo scorso 19 maggio sempre per la prestigiosa etichetta di Geoff Barrow (Portishead), che nel 2015 ha pubblicato anche il loro MIRROR BEING. Inoltre quest'anno, in occasione del quinto anniversario del debut album ALWAYS THEN, il gruppo ha ripubblicato il disco in una versione arricchita da un bonus EP, ALWAYS THEN REVISITED.
Noto per la sua inedita sintesi di pop e industrial, il duo inglese formato da Nicholas Wood e Kat Day si riconferma per le sue atmosfere evanescenti che si plasmano su beat minimalisti e synth eterei.
Originario di Manchester con pianta stabile a Berlino, il duo è attivo dal 2010 e vanta importanti collaborazioni con artisti del calibro di Anton Newcombe (Brian Jonestown Massacre), Joe Dilworth (Stereolab) e il già citato Geoff Barrow (Portishead), oltre ad aver diviso il palco nel 2015 con gli Psychic Tv del leggendario Genesis P-Orridge (Throbbing Gristle) alla Sala Arena di Madrid.