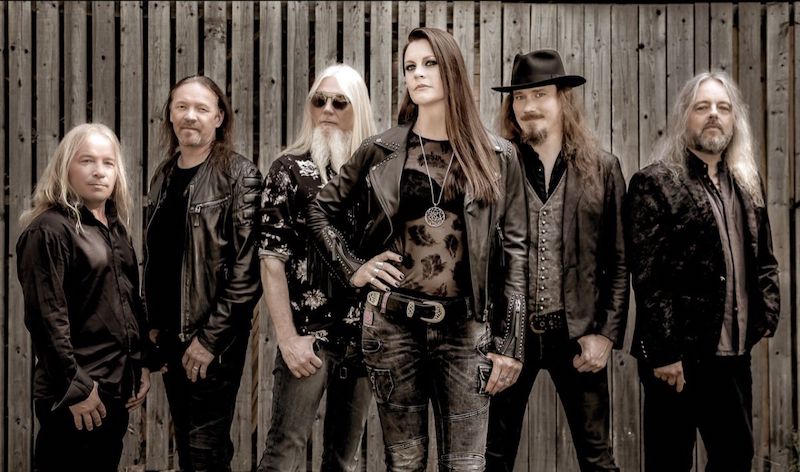 NIGHTWISH – pubblicano il nuovo video dal vivo
I NIGHTWISH pubblicheranno il nuovo lavoro dal vivo "Decades: Live In Buenos Aires" il 6 dicembre in BluRay Digibook, 2CD Digipak, BluRay+2CD Earbook, 3LP.
I pre-ordini sono attivi: https://nblast.de/Nightwish-LiveInBA – www.shop.nightwish.com
Oggi i NIGHTWISH svelano il secondo singolo e video "Slaying The Dreamer".
La canzone è disponibile qui: https://nblast.de/NW-SlayingTheDreamer
Precedentemente è stato pubblicato il primo singolo "Devil And The Deep Dark Ocean" (https://www.youtube.com/watch?v=t26r_vAYQ0Q), disponibile in digitale qui: https://nblast.de/NightwishDeepDarkOcean
"Decades: Live In Buenos Aires" è la divina nuova uscita dal vivo dei finlandesi; è stata catturata da diciannove telecamere durante quella straordinaria notte in Argentina. I NIGHTWISH hanno dato avvio alle danze con l'entusiasmante "End Of All Hope" e hanno salutato il pubblico con l'epica e insuperabile "Ghost Love Score". Nel mezzo, il set è pregno di pura gloria finlandese pionieristica e incorpora inconfondibili brani come "Wish I Have An Angel", "Sacrament Of Wilderness", "Elvenpath", "Devil & The Deep Dark Ocean", "Dead Boy's Poem" e molti altri… Questo concerto non ha fatto altro che catturare un'importante istantanea della band durante l'ennesimo apice della propria carriera, celebrata da una delle folle più entusiaste del mondo in una città come nessun'altra. Era pura magia.
Pubblicato nel 2018, "Decades" è stato molto più di un mero best-of. Questa cronologia completa dei primi due decenni della band non solo ha segnato il 20° anniversario della band, ma è stata anche la fine di un'altra era nella carriera stellare del gruppo finlandese di maggior successo internazionale. Anche il tour conseguente è stato molto più di una normale celebrazione dell'anniversario: dal 9 marzo al 15 dicembre 2018, il settimo tour mondiale dei NIGHTWISH ha incantato 82 città in Europa, Nord America e Sud America, con una scaletta più unica che rara.
La tracklist di "Decades: Live In Buenos Aires" è la seguente:
01. Swanheart
02. End Of All Hope
03. Wish I Had An Angel
04. 10th Man Down
05. Come Cover Me
06. Gethsemane
07. Élan
08. Sacrament Of Wilderness
09. Deep Silent Complete
10. Dead Boy's Poem
11. Elvenjig
12. Elvenpath
13. I Want My Tears Back
14. Amaranth
15. The Carpenter
16. The Kinslayer
17. Devil & The Deep Dark Ocean
18. Nemo
19. Slaying The Dreamer
20. The Greatest Show On Earth
21. Ghost Love Score
I NIGHTWISH hanno recentemente annunciato il loro ritorno in Europa, in occasione del tour mondiale del 2020! La band ha già annunciato il concerto ad Amsterdam, per il quale sono stati venduti oltre 15.000 biglietti in pochi giorni. L'unica data italiana è prevista il 3 dicembre 2020 al Lorenzini District di Milano. Celeberrimi per il loro songwriting unico, la scenografia imponente e gli effetti pirotecnici, gli eroi finlandesi del symphonic metal NIGHTWISH promettono di fare intraprendere, ancora una volta, ai loro spettatori uno spettacolare viaggio audiovisivo.
I NIGHTWISH sono attualmente impegnati nella lavorazione del nuovo disco, previsto per il 2020.
NIGHTWISH WORLD TOUR 2020
16.11.    N       Oslo – Spektrum
20.11.    D       Leipzig – Arena
21.11.    D       Dusseldorf – ISS Dome
23.11.    NL     Amsterdam – Ziggo Dome
24.11.    NL     Amsterdam – Ziggo Dome (sold out)
25.11.    F       Paris – AccorHotels Arena
26.11.    B       Antwerp – Lotto Arena
28.11.    D      Stuttgart – Hanns-Martin-Schleyer-Halle
29.11.    LUX   Luxembourg – Rockhal
03.12.    I        Milan – Lorenzini District
04.12.    D       Munich – Olympiahalle
09.12.    D       Bamberg – Brose Arena
10.12.    D       Frankfurt – Festhalle
12.12.    A       Vienna – Stadthalle
14.12.    D       Berlin – Max-Schmeling-Halle
16.12.   UK      Cardiff – Motorpoint Arena
18.12.   UK      London – SSE Arena Wembley
via Contra Promotion
Altre date
con MARKO HIETALA
05.05.                   RCH        Santiago – Teatro Caupolicán
07.05.                   RA          Buenos Aires – Luna Park (con BOUDIKA)
09.05.                   BR           São Paulo – Espaço das Américas
10.05.                   BR           Rio de Janeiro – Vivo Rio
con BEAST IN BLACK
26.05.                   RUS        St. Petersburg – A2 Green Concert
27.05.                   RUS        Moscow – Crocus City Hall
29.05.                   UA          Kiev – Stereo Plaza
31.05.                   BY           Minsk – Falcon Club
05. – 07.06.         FIN         Tampere – Rockfest
11.06.                   PL           Kraków – Mystic Festival
12./13.06.           CH          Interlaken – Greenfield Festival
16. – 19.07.         D             Cuxhaven – Deichbrand Festival
con TURMION KÄTILÖT
07.12.                   H             Budapest – Aréna
www.nightwish.com
www.facebook.com/nightwish
www.nuclearblast.de/nightwish