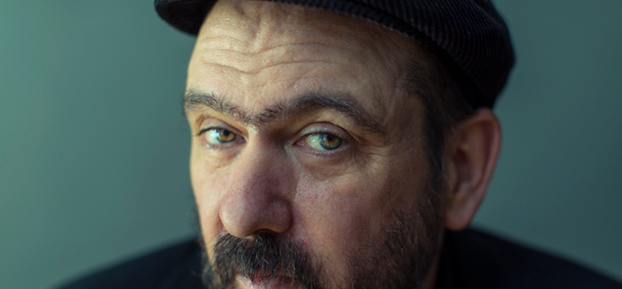 >>MARK EITZEL announces new studio album, "Hey Mr Ferryman"
Mark Eitzel's tenth solo album, and his first in three years, Hey Mr Ferryman, will be released 27th January 2017 on Decor Records in the UK/Europe and Merge in the US.
Today, we are excited to share the first single, "The Last Ten Years". Eitzel writes: "This song was originally written for American Music Club and was called 'The Last 5 Years.' This was inspired by an especially toxic year spent in New York's Lower East Side. I added five years to make it ten, though 20 years had passed. It would have been a different song if the chorus was 'I spent the last 20 years trying to waste half an hour.' I mean, that's a lot, even for me."
Hey Mr Ferryman is Eitzel's first full studio album recorded entirely in London. It was made at 355 Studios with Bernard Butler (ex-Suede, McAlmont & Butler), who has produced and/or recorded albums with Tricky, Ben Watt, Bert Jansch, Edwyn Collins, and more. Butler produced Hey Mr Ferryman and played all of the electric guitar, bass, and keyboard parts on the album.
Hey Mr Ferryman features the vivid melodies long associated with Eitzel's former band American Music Club—which remains a cult favourite to this day—as well as Butler's distinctive guitar that serves to complement Eitzel's expressive vocals. Of that voice, Pitchfork once wrote: "If Leonard Cohen's voice is a story about the passage of time and Levon Helm's is a story about losing what is most precious to you, Eitzel's is about the circuitous roads we take in search of ourselves."
Pre-order Hey Mr Ferryman now on CD and LP in the decor store. There is a limited edition of the LP on 180gram vinyl with a 12 track bonus cd of unreleased tracks, demos and alternative recordings to those on the final lp. The normal LP will include two digital bonus tracks. The album can also be pre-ordered via your favorite digital outlet.
Mark Eitzel will be on tour in the UK in March 2017, the tickets of which go on-sale this Monday. Dates/info below:
Saturday 4th March – BRIGHTON – Bleach
Sunday 5th March – BRISTOL – Fleece
Tuesday 7th March – LONDON – Bush Hall
Wednesday 8th March – SHEFFIELD – Greystones
Thursday 9th March – MANCHESTER – Deaf Institute
Friday 10th March – NEWCASTLE – Cluny
Saturday 11th March – HEBDEN BRIDGE – Trades Club
Sunday 12th March – GLASGOW – Stereo