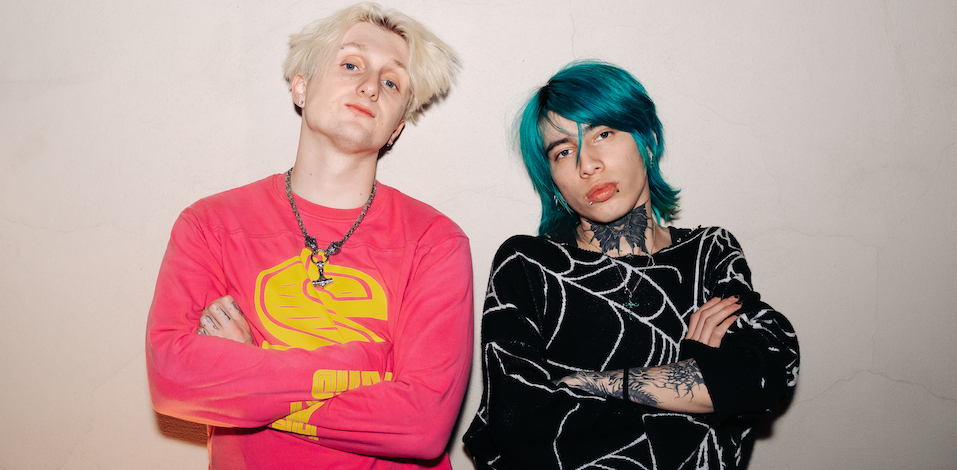 Love Ghost – il video di "Human Error 404"
Esplorano, se non l'hanno già fatto prima, territori che ricordano lo shoegaze, ma sempre con quella voglia di contaminazione che li contraddistingue. Drum machine o batteria triggerata, la differenza comunque non è importante perchè deve supportare il mega tappeto di chitarre distorte, arpeggiate, suonate a distesa.
Finnegan Bell è di nuovo nella sua testa e tenta di uscire, attraverso lo stato meditativo che questo brano induce. In collaborazione con Ritorukai, artista messicano, inglese e spagnolo si mescolano ancora, ma la vera lingua comune è quella della melodia vocale. È attraverso questa che si capiscono e comunicano creando una conversazione parallela.
Il video mostra infatti impegno, concentrazione nel lavoro e altri momenti in cui i due si lasciano andare alla musica… Se gli "adulti" vogliono capire quest'ultima generazione dovrebbero guardare questo video e ascoltarlo col cuore anziché con le orecchie, lasciando la testa da parte….e infatti Finn e Ritorukai è proprio questo che stanno provando a fare… Stratificazione emozionale del cantato dalla melodia semplice ma costantemente doppiata dalla stessa frase urlata, in ottava alta, ma a volume basso. Il muro della razionalità e delle paranoie si oltrepassa rompendolo con violenza o insinuandosi nelle crepe come i serpenti? Loro lo fanno con la musica e l'amicizia….
A cura di RikiAbi.
Web links:
Website: https://www.loveghost.com
Apple Music: https://music.apple.com/us/artist/love-ghost/345566313
Instagram: https://www.instagram.com/loveghost_official
YouTube: https://youtube.com/@LoveGhost
Twitter: https://twitter.com/@LoveGhost_
Facebook: https://www.facebook.com/loveghost.official
Soundcloud: https://soundcloud.com/loveghost_official
Spotify: https://open.spotify.com/artist/7oYWWttOyiltgT19mfoUWi
Deezer: https://www.deezer.com/us/artist/345544
Tik Tok: https://www.tiktok.com/@loveghost_official
Wikipedia: https://simple.m.wikipedia.org/wiki/Love_Ghost_(band)
english version:
Love Ghost explore, if they haven't already done so before, territories that recall shoegaze, but always with that desire for contamination that distinguishes them. Drum machine or triggered drums, the difference is not important anyway because it must support the mega carpet of distorted, arpeggiated guitars, played at length.
Finnegan Bell is back in his head and tries to get out, through the meditative state that this song induces. In collaboration with Ritorukai, a Mexican artist, English and Spanish mix again, but the real common language is that of vocal melody. It is through this that they understand and communicate, creating a parallel conversation.
In fact, the video shows commitment, concentration at work and other moments in which the two let themselves go to music… If "adults" want to understand this latest generation they should watch this video and listen to it with their hearts rather than with their ears, leaving the head aside…. and in fact Finn and Ritorukai are exactly what they are trying to do… Emotional stratification of the singing with a simple melody but constantly doubled by the same shouted phrase, in a high octave, but at a low volume. Can the wall of rationality and paranoia be overcome by breaking it violently or creeping into the cracks like snakes? They do it with music and friendship….
Web links:
Website: https://www.loveghost.com
Apple Music: https://music.apple.com/us/artist/love-ghost/345566313
Instagram: https://www.instagram.com/loveghost_official
YouTube: https://youtube.com/@LoveGhost
Twitter: https://twitter.com/@LoveGhost_
Facebook: https://www.facebook.com/loveghost.official
Soundcloud: https://soundcloud.com/loveghost_official
Spotify: https://open.spotify.com/artist/7oYWWttOyiltgT19mfoUWi
Deezer: https://www.deezer.com/us/artist/345544
Tik Tok: https://www.tiktok.com/@loveghost_official
Wikipedia: https://simple.m.wikipedia.org/wiki/Love_Ghost_(band)