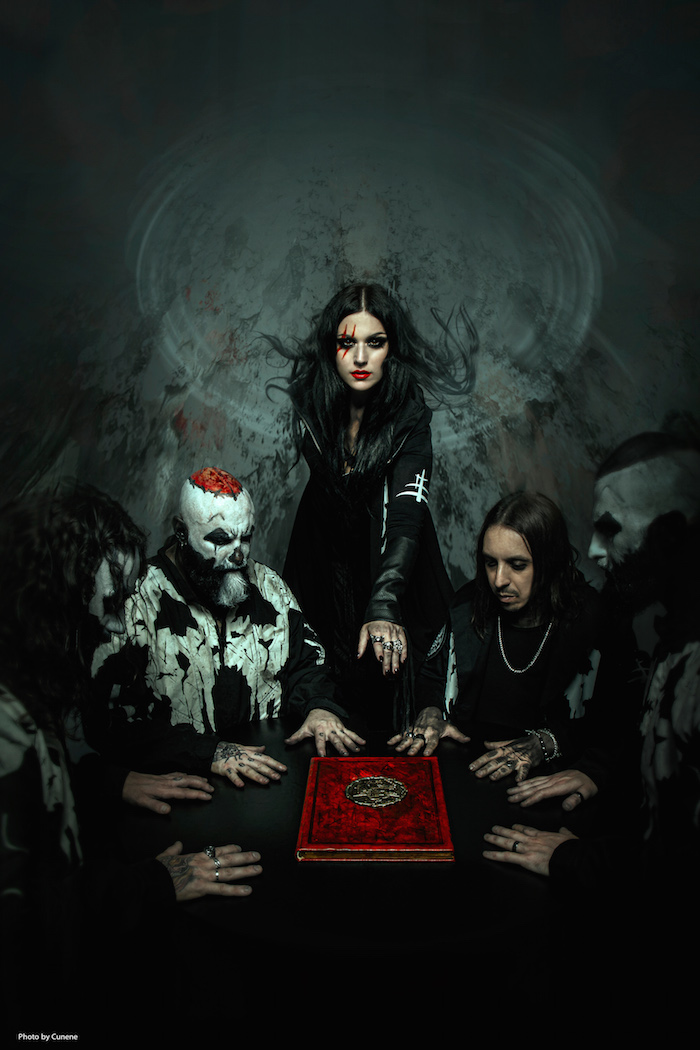 LACUNA COIL – Reckless (OFFICIAL VIDEO)
I LACUNA COIL presentano oggi il video di "Reckless", il secondo estratto dal nuovo album "Black Anima" in uscita l'11 ottobre 2019 su Century Media Records. Nel video, nuovamente diretto da Roberto Saku Cinardi, prosegue la storia cominciata con il primo capitolo "Layers Of Time".
Cristina Scabbia commenta:
"Reckless" è il secondo estratto dal nuovo "Black Anima". Volevamo che il concept del video si legasse in qualche maniera al precedente "Layers Of Time", ecco perché i due video sono stati girati nella stessa location. Mentre in "Layers Of Time" al centro della scena c'era la band in "Reckless" c'è l'idea di libertà e verità verso se stessi, che prende vita attraverso disturbanti e forti immagini, così da far risaltare le atmosfere più cupe e oscure del nuovo album. In "Reckless" i Lacuna Coil diventano parte dell'incubo e delle paure di questa ragazzina dai capelli rossi. Come consuetudine lavorare a fianco di Saku in questa incredibile location e con attori molto preparati è stato molto stimolante."
Roberto Cinardi (in arte SaKu), già al lavoro con la band per i video di Spellbound (2009) per il quale ha vinto il Premio Videoclip Italiano per il miglior montaggio, "I Won't Tell You" (2010), "End of Time" (2012) e il cortometraggio con protagonisti membri della band Dark Passengers (2012). SaKu ha inoltre collaborato con molti artisti della scena musicale italiana tra cui Salmo, Max Gazzè, Casino Royale, Piero Pelù e molti altri.
Sotto l'artwork di "Black Anima":
Track list:
1. Anima Nera (02:29)
2. Sword Of Anger (03:54)
3. Reckless (03:06)
4. Layers Of Time    (04:07)
5. Apocalypse (04:18)
6. Now Or Never (04:42)
7. Under The Surface (04:13)
8. Veneficium (06:10)
9. The End Is All I Can See    (04:17)
10. Save Me (04:36)
11. Black Anima (03:23)
"Black Anima" sarà disponibile nei seguenti formati:
Ltd. 2CD Book Edition incl. con set di tarocchi 
Standard CD Jewelcase
black LP + CD 
silver LP + CD (esclusivo per l'Italia e limitato a 200 copie)
digitale (con bonus track)
Disponibile il preorder del disco a questo link.
"Black Anima" è il seguito di "Delirium" (2016), entrato nelle classifiche americane (#16 Current Album Chart, #2 Hard Rock Chart) e di tutto il mondo (#11 in Italia, miglior risultato mai raggiunto) oltre che il seguito del live album "THE 119 SHOW – LIVE IN LONDON", pubblicato nel 2018 per celebrare i 20 anni di attività della band metal italiana di maggior successo di sempre.
La band sarà in Italia dai primi di novembre assieme a Eluveitie e Infected Rain per quattro date, di seguito tutti i dettagli:
LACUNA COIL on tour with Eluveitie
Support: Infected Rain
2.11.2019 Italy – Bari, Demodé Club
3.11.2019 Italy – Rome, Orion
5.11.2019 Italy – Bologna, Estragon
6.11.2019 Italy – Milan, Live Club
8.11.2019 Germany – Stuttgart, LKA Longhorn
9.11.2019 Germany – Oberhausen, Turbinenhalle II
10.11.2019 Belgium –  Antwerp, Trix
12.11.2019 UK – Manchester, O2 Ritz
13.11.2019 UK – Glasgow, Garage
14.11.2019 IRELAND – Dublin, Academy
15.11.2019 UK – Bristol, SWX
16.11.2019 UK – London, O2 Forum Kentish Town
17.11.2019 NL – Utrecht, Tivoli Ronda
19.11.2019 Germany – Frankfurt, Batschkapp
20.11.2019 Germany – Hannover, Capitol
21.11.2019 Germany – Berlin, Huxleys
22.11.2019 Germany – Leipzig, Felsenkeller
23.11.2019 Germany – Munich, Tonhalle
24.11.2019 Austria – Dornbirn, Conrad Sohm
26.11.2019 France – Bordeaux, Le Rocher de Palmer
27.11.2019 Spain – Barcelona, Razzmatazz
28.11.2019 Spain – Madrid, Mon Live
29.11.2019 France – Toulouse, Le Bikini
30.11.2019 France – Rennes, L'Etage
1.12.2019 France – Paris, Elysée-Montmartre
3.12.2019 Germany – Saarbrucken, Garage
4.12.2019 Germany – Nurnberg, Hirsch
5.12.2019 Slovenia – Ljubljana, Kino Siska
8.12.2019 Austria – Vienna, Arena
10.12.2019 Poland – Krakow, Kwadrat Students Club
11.12.2019 Poland – Warsaw, Progresja
12.12.2019 Latvia – Riga, Melna Piektdiena
13.12.2019 Finland – Helsinki, Tavastia
14.12.2019 Finland – Tampere, Pakkahuone
15.12.2019 Estonia – Tallinn, Rock Cafe
17.12.2019 Sweden – Stockholm, Klubben Fryshuset
18.12.2019 Norway – Oslo, Vulkan Arena
19.12.2019 Sweden – Gothenburg, Tradgarn
20.12.2019 Denmark – Copenhagen, Amager Bio
21.12.2019 Germany – Hamburg, Docks
ALL THAT REMAINS + LACUNA COIL CO-HEADLINING US TOUR
DISEASE OF THE ANIMA TOUR DATES
w/ Bad Omens, Toothgrinder, and Uncured
15.9.2019 – New York, NY – Webster Hall
17.9.2019 – Greenville SC – The Firmament
18.9.2019 – Knoxville, TN – Jackson Terminal
19.9.2019 – Atlanta, GA – Masquerade
20.9.2019 – Dothan, AL – The Plant
21.9.2019 – Mobile, AL – Soul Kitchen
23.9.2019 – Dallas, TX – Gas Monkey Live
24.9.2019 – Houston, TX – White Oak Music
27.9.2019 – Phoenix, AZ – The Pressroom
28.9.2019 – Las Vegas, NV – Hard Rock Live*
30.9.2019 – San Diego, CA – House of Blues*
1.10.2019 – Los Angeles, CA – The Regent Theater*
2.10.2019 – Berkley, CA – The UC Theatre
3.10.2019 – Sacramento, CA – Ace Of Spades
5.10.2019 – Spokane, WA – The Knitting Factory*
6.10.2019 – Calgary, AB – Palace Theatre
7.10.2019 – Edmonton, AB – Starlite Room
9.10.2019 – Winnipeg, MB – Park Theatre
10.10.2019 – Minot, ND – The 'O' Riginal Bar
w/Bad Omens, Eximious, and Uncured
11.10.2019 – Minneapolis, MN – The Cabooze
12.10.2019 – Columbia, MO – The Blue Note
13.10.2019 – Milwaukee, WI – The Rave II
15.10.2019 – Cincinnati, OH – Riverfront Live
16.10.2019 – Chicago, IL – House Of Blues*
17.10.2019 – Cleveland, OH – House Of Blues
18.10.20199 – Toronto, ON – Opera House
19.10.2019 – Baltimore, MD – Ram's Head Live
*no Bad Omens