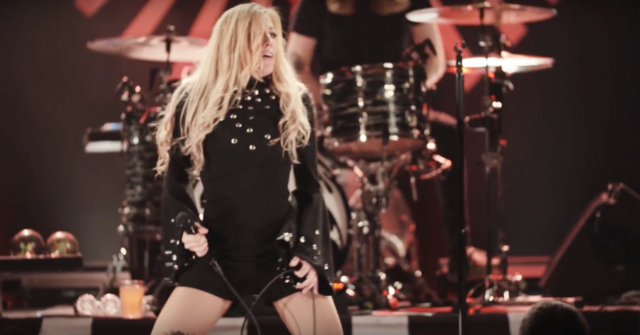 BLUES PILLS – "Lady In Gold – Live In Paris" oggi nei negozi
Oggi i blues rockers svedesi BLUES PILLS pubblicano il loro primo DVD/Blu-ray, "Lady In Gold – Live In Paris" su Nuclear Blast. Per l'occasione la band presenta su Planet Rock la canzone dal vivo 'Lady In Gold'.
http://nblast.de/LadyInGoldPremiere
L'uscita cattura il concerto tutto esaurito che la band ha tenuto a Le Trianon di Parigi il 30 ottobre 2016 dinanzi a 1200 fan euforici.
Altro su "Lady In Gold – Live In Paris"
'Bliss': https://youtu.be/ZQOfbg3veGg
'Little Boy Preacher': https://youtu.be/GuYJH74sSkI
'Elements & Things': https://youtu.be/7U6nZ2QliS8
"Lady In Gold – Live In Paris" è disponibile in formato fisico (http://nblast.de/BPLiveInParis) e digitale (http://nblast.de/BluesPillsDigital).
La band commenta: "Siamo entusiasti di comunicarvi che pubblicheremo un disco/DVD dal vivo, che è stato registrato in occasione del nostro concerto a Le Trianon di Parigi lo scorso ottobre durante il 'Lady in Gold Tour'. In questo modo vogliamo condividere la nostra esperienza dal vivo con i nostri fan e anche con quelli che non hanno mai avuto l'opportunità di vederci in azione sul palco. Le interpretazioni live delle nostre canzoni sono molto diverse rispetto alle versioni in studio. Potremmo dire che sono più rock'n roll, più heavy, con più parti jam e psichedeliche. Semplicemente è un'altra esperienza. Suonare dal vivo è ciò che abbiamo sempre amato di più. In nessun'altra situazione ci si può connettere così profondamente con i propri fan. Abbiamo cercato di catturare i magici momenti e le emozioni dell'atmosfera dal vivo in questo DVD, in modo che possiate riprodurli nel vostro salotto, sulle vostre auto o dovunque vogliate ascoltarlo. Abbiamo scelto Parigi perché per noi significa molto suonare in questa bellissima città e Le Trianon è uno delle più belle sale da concerto di tutta Europa. Non potevamo non condividere tutto ciò con voi!".
"Lady In Gold Live In Paris" contiene le seguenti canzoni:
1. Lady In Gold
2. Little Boy Preacher
3. Bad Talkers
4. Won't Go Back
5. Black Smoke
6. Bliss
7. Little Sun
8. Elements And Things
9. You Gotta Try
10. High Class Woman
11. Ain't No Change
12. Devil Man
13. I Felt a Change
14. Rejection
15. Gone So Long
La band si imbarcherà presto in un tour in Norvegia e Regno Unito di spalla ai compagni di etichetta BLACK STAR RIDERS e in Svezia con gli EUROPE.
L'ultimo disco in studio "Lady In Gold", prodotto da Don Alsterberg (GRAVEYARD, DIVISION OF LAURA LEE, JOSÉ GONZÁLEZ, JERRY WILLIAMS) e con la copertina realizzata da Marijke Koger-Dunham (THE BEATLES, CREAM), è stato pubblicato il 5 agosto 2016, entrando nelle classifiche di svariati Paesi europei.
Altro su "Lady In Gold":
'I Felt A Change' music video: https://youtu.be/aWQVGixoZsQ
'Little Boy Preacher' lyric video: https://youtu.be/yPVW2QpgWuY
'Lady In Gold' music video: https://youtu.be/AHRvig4l9c4
About the album title and its meaning: https://youtu.be/9_4-rjmJApw
About the lyrics: https://youtu.be/oDblv4WCI1M
About the time after the debut: https://youtu.be/6TcVou3Fjbo
About the songs: https://youtu.be/C52elhdXHKo
Q&A: https://youtu.be/6VrAhbZ0mzI
Altro su BLUES PILLS:
'High Class Woman' music video: https://youtu.be/I9y9fCZGHk4
'No Hope Left For Me' music video: https://youtu.be/iV9XFldAi7w
'Gypsy' music video: https://youtu.be/AFaqK1VShtk
'Devil Man' lyric video: https://youtu.be/g6p2R8jaUW0
'Jupiter' lyric video: https://youtu.be/R5Evh8E3_oI
www.bluespills.com  | www.facebook.com/bluespills  | www.nuclearblast.de/bluespills